Pret A Manger's Subscription Service is a Genius Idea
From fresh groceries to snowboards, subscription services have taken over our lives. Just about everything can be subscribed to today.
This has never been truer now that you can literally subscribe for fresh coffee from everyone's local coffee shop, Pret. After introducing their 'YourPret Barista' service, it's all anyone's been talking about.
I don't know about you, but everyone at the 3Search office has been getting their coffee-fill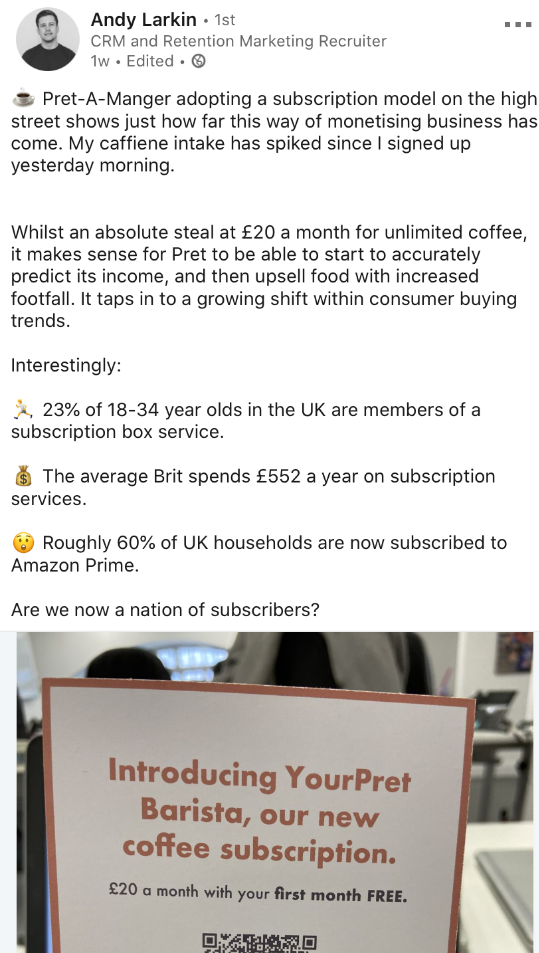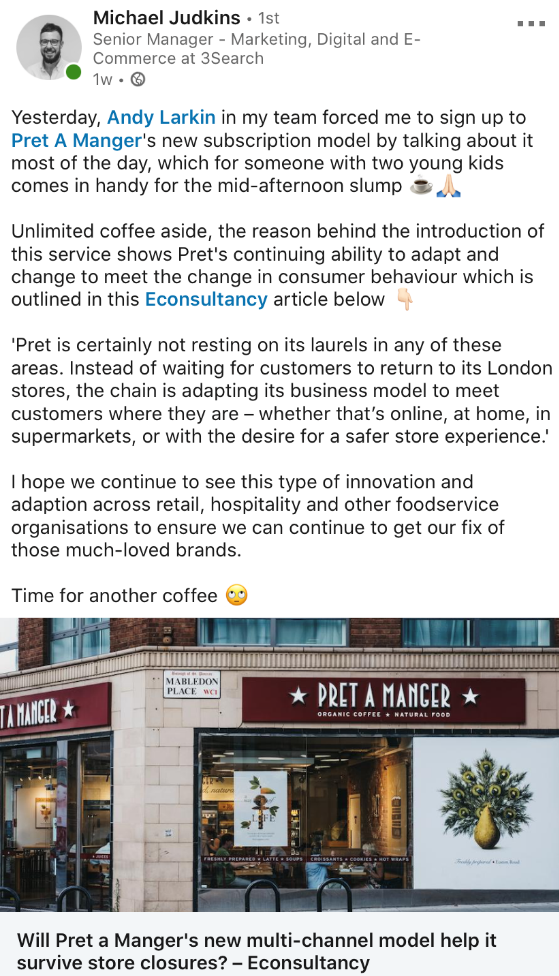 Personally, I hadn't bought anything from Pret before but I knew I had to subscribe before I'd even tried any of their products. There are three reasons for this:
Free trial – a month of free coffee while I start my new job? Uh, yes please.
Flexibility – I can cancel whenever I want. If I don't like their drinks, I can kick them to the curb before I've even paid for anything.
Add-ons – the subscription includes basically everything on their menu. Plus, I can personalise my drinks with extra shots for FREE!
Seems like the customer always wins! So why is this service marketing genius?
Let's break it down…
1. The Free Trial
Subscription services are a big commitment, which is why almost every one offers a free trial.
Customers may think they'll cancel after the first month, but once they've used the service daily for the duration of the free period, they won't want to let go. Once that time is up, it's the perfect opportunity for businesses to upsell.
Take Amazon's Audible, for example, you're made to think that £7.99/month is an amazing deal. You'd think that gives you access to as many audiobooks as you wish, but really it's £7.99 for one book per month. If you finish that, which you probably will with all of that commuting time, you have to pay extra for more content.
The same can be said for the new Disney+ Premier Access. To access their latest release, Mulan, you face an upcharge of £19.99 alongside the monthly fee of £5.99.
We all know that Pret has been struggling to bounce back after lockdown. Weekly sales fell 60% in August according to the Wall Street Journal. Fewer people commuting = less footfall in their once booming shops.
Giving away a month of free coffee to their customers seems like a ridiculous idea when they're already losing so much income.
But then again, it means they don't have anything else to lose.
Pret's counting on the idea that when you go to their store for your five free coffees a day, you'll also be tempted to pick up a snack or two. They can bump up their food prices because you probably won't notice when you've spent six months away from their stores.
Plus, if you're getting your drink for free, why not treat yourself?
The original subscription service, gym memberships, have been slow on the free trial uptake, which is why so many people are reluctant to sign up and commit to paying monthly for a service they're unsure of using.
To resolve this, they've started to be more flexible with their contracts…
2. Flexibility Fixes Commitment Issues
Consumers don't like to be tied down.
But, being able to cancel at any time is still a fairly new concept for subscription services. The first subscription service that I remember adopting this option is NowTV. Being able to cancel at any point was their biggest USP when they first launched.
The reason why companies are reluctant to include this option in their contracts is that if customers have one bad experience with your brand, they can cancel immediately. No second chances.
Ruthless!
To prevent this, brands must be on the ball with everything that they do! When distributors failed to deliver their recipe boxes, allplants had to compensate their customers with offers such as free food in an attempt to rebuild trust. To hear more about this, check out the Secret Leaders podcast they featured on.
It's either this, or you can take away the option of cancelling. Cineworld's Unlimited card, for example, allows you to watch as many movies as you like (as long as their runtimes don't overlap). Sounds great, except you're locked into paying monthly for 12 months as soon as you sign up. No flexibility, no free trial.
To get people to sign up, Pret is relying on the first option – delivering a great service. And they can afford to take this risk.
As the first and (for now) only coffee subscription service, Pret is counting on being the only option for coffee drinkers.
Even if the likes of Starbucks and Costa jump on board with this idea, Pret was the first and the first tends to do the best. They become known as THE subscription service. For example…
In an interview with the Wall Street Journal, the mastermind behind YourPret, Briony Raven, said that Pret aims to become "part of people's everyday routines". Something that seems reasonable. When you pay £20/month for Pret coffee, why would you buy anything else?
Lastly, in a world that's constantly changing people are desperate for consistency. Even if that consistency is simply coffee.
3. Recommended for You: Personalisation
Personalisation has taken subscription services by storm!
CRM systems and behavioural analytics have made it possible to tailor adverts to their audience's locations, preferences and needs. As a result, consumers are expecting a personal touch to almost everything they interact with.
Subscription services can deliver this better than anyone, as their service needs to be adaptable for people to buy into it.
For example, Pop In A Box is a service that sends customers mystery boxes containing Funko Pop figures monthly. Funko, however, create figures based on a vast range of celebrities, franchises and brands. From Disney characters to basketball players, from the royal family to video games. Their customers span a wide range of people. Some may like broad genres whilst others may prefer more niche brands.
For Pop In A Box to be successful, they must be able to determine each customer's likes and dislikes whilst maintaining their mystery USP. They achieve this by asking each customer to select the brands/figures that they like and which they dislike. From there, they know which to send.
Other services are even more personal. Tails.com, for example, makes specially made dog food to suit your dog's health and breed requirements. Whilst Vitamin Buddy gets you your daily vitamins based on what you require.
Pret's service is a little different. It's immediate and there's no time for their products to be crafted in such a way as other businesses. To combat this, they've made basically their entire menu available to subscribers including extra shots and syrups at no extra charge.
It just goes to show that everything can be personalised and maybe everything should be. Personalisation makes your product worth what you charge. It makes people feel in control.
It's worth considering how you can adopt these strategies into your own business, as Pret has done. We are quickly becoming a nation of subscribers, as Andy describes in his LinkedIn post. You do not want to be left behind.
So… how can your business think more 'Pret'?

To hear from the experts, check out our webinar - 'Subscription Services: The Trend That's Redefining The Way We Buy' - where you'll hear from marketing professionals from TouchNote, Tails.com and the Financial Times.


***
3Search is an award-winning UK recruitment consultancy, specialising in recruiting marketing experts for the digital age.
Whether you're seeking new talent or looking for your next career move, we can help.
Learn more at www.3search.co.uk